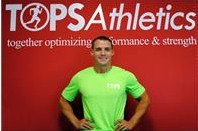 My name is Mike Taranto. I believe fitness should be about the challenge and enjoyment of working out. Reaping the benefits of hard work by accomplishing something you've always wanted to do or something you never thought you would be able to do. I'm here to get people in the best shape they've ever been in, whether they have never picked up a weight in their life or are ready to take their fitness to the next level. I work with all types of individuals with varying fitness goals. Novice exercisers, fat loss, muscle gain, even athletes.

As far as my experience, I've been a trainer for 7 years. Working in a gym for 10 years. Currently certified through American Council on Exercise, ACE. I am also a level 1 kettle bell instructor. I've played all different kinds of sports from one extreme to another, I have run a half marathon, played high school football, semi-pro football, mixed martial arts, and now currently I am an NPC Men's Physique Competitor.

All you need is a goal and anything is possible.

Favorite Quote: " We are all born small and weak, we all grow old and weak. What you do in between..... Well that's up to you "